Custom CAD/PDF Drawing Die Cutting service of ROGERS Poron Foam Gasket Tape
Short Description:
Sample: Free
Specifications: Custom sizes are available upon request.
Product Detail
FAQ
Product Tags
Rogers Preferred Converters
Rogers Poron sells PORON and BISCO materials through an exclusive network of preferred converters. Kingzom is a Rogers partners who deliver an exceptional level of die cutting service and support for Rogers products. We maintain high standards of quality, technical capability, and customer service ensuring the best possible experience for our shared end users.
Kingzom fully integrated, in-house precision converting capabilities are available across multiple facilities with expertise to provide competitive solutions to virtually any industry. Precision converting sales teams and engineers partner closely with your design team to solve complex manufacturing and assembly problems that reduce your overall costs.
Kingzom's expertise as a precision converter and die cut fabricator delivers to you reliable and consistent production parts spanning environmental gaskets and seals, bonding systems, EMI/RFI shielding and absorbers, electrical insulation, electrical conduction, thermal insulation, acoustic insulation, thermal conduction, cushioning, shock absorption, vibration damping, lens protection, graphic overlays, labels and electromechanical subassemblies.
Die Cutting Case Shown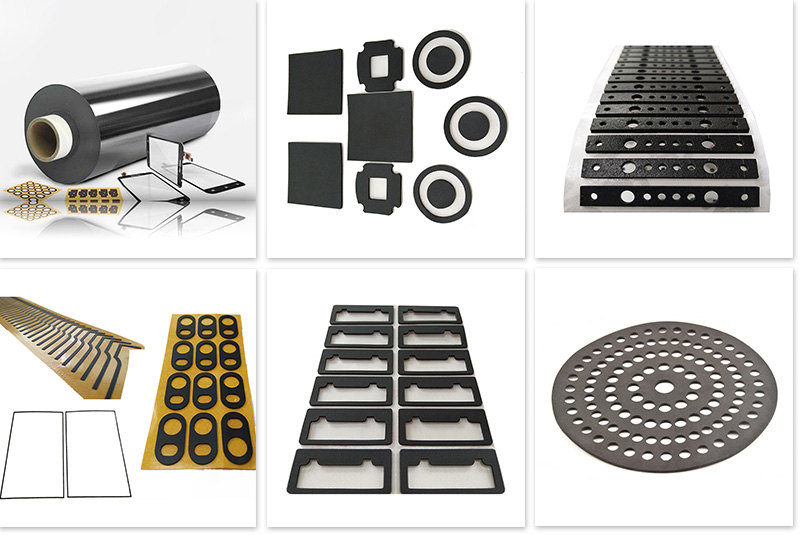 PORON products integrate these advantages
1. Excellent resistance to compression deformation, it has a long-lasting seal and cushioning properties.
2. Low outgassing and non-atomizing, no plasticizers or residual contaminating chemicals. The material itself will not break due to brittleness, and it will not corrode metal.
3. The material itself has flame retardant properties without any additives. Most materials meet the flame retardant requirements of UL HBF and MVSS 302.
4. Specially designed polyurethane formulations offer a wide range of moduli for a variety of design requirements – 2-90psi @ 25% good chemical resistance to deformation.
5. Easy to process, die-cut clean, can be used with a variety of adhesives.
6. Various thicknesses and recipes from 0.012″ to 0.500″ (0.30mm to 12.7mm)
Application:
1. Shock & Impact: Display Protection, Impact Absorption, Shock Absorption.
2. Sealing & Gasketing: Aircraft Interior Seals, Automotive Gaskets & Gap Filling, Dust Seals, Enclosure Panel, Door & Window Seals, HEV Enclosures, LCD Gaskets, Rail Interior Seals, Water Seals.
3. Cushioning & Pads: Aircraft Carpet Pads, Battery Pad Portfolio, Comfort Cushioning, Custom Contouring, Mass Transit Seating, Medical Cushioning, Pads & Springs, Spacers & Bin Liners.
4. Acoustics & Vibration:Buzz, Squeak, Rattle / Noise, Vibration, Harshness, Damping & Isolation, Sound Blocking & Absorption
Main series
ROGERS

Soft Slow Rebound

Item
Typical roll size
Thickness

4790-92-30012-04P

1372mm*182.88M

0.3mm

4790-92-25021-04P

1372mm*144.78M

0.53mm

4790-92-25024-04P

1372mm*144.78M

0.61mm

4790-92-12030-04P

1372mm*121.92M

0.75mm

4790-92-25031-04P

1372mm*121.92M

0.79mm

4790-92-25041-04P

1372mm*106.68M

1.04mm

4790-92-12049-04P

1372mm*106.68M

1.25mm

4790-92-12059-04P

1372mm*91.44M

1.50mm

4790-92-20081-04P

1372mm*68.58M

2.06mm

4790-92-20093-04P

1372mm*68.60M

2.36mm

4790-92-15120-04P

1372mm*50.29M

3.05mm

Very Soft Rebound/ PET Su      pported

4701-30-25021-04P

1372mm*144.78M

0.53mm

4701-30-25031-04

1372mm*47.72M

0.79mm

4701-30-25037-04P

1372mm*121.92M

0.94mm

4701-30-20062-04

1372mm*91.44M

1.57mm

4701-30-20093-04

1372mm*68.58M

2.36mm

4701-30-20125-04

1372mm*50.29M

3.18mm
---
---